The front page of UNH's primary campus webserver currently (as I type) rotates among six randomly selected displays, but the one I happened to see today is here: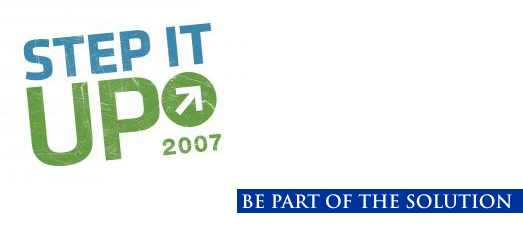 … with accompanying text:
Join others in raising awareness about global warming on April 14 from 11 a.m. to 1 p.m. on Thompson Hall lawn. Music, speakers, food and bike ride are scheduled.
If you'd like to check this out yourself, go to the
page
and hit the "refresh" icon until you get it. It will probably remain available for the next few days. You'll also see a "Learn More" link that points to
the Step It Up 2007
website.
It's not exactly a sober balanced look at climate science there; they proudly proclaim their "call to action":
"Step It Up Congress! Cut carbon 80% by 2050."
… and detail their supporting organizations, like MoveOn.org and
The Nation
magazine. The politics span the spectrum from left to hard-left, and the primary purpose is to push the alarmist agenda of draconian environmental regulations, mandates, and compulsion.
Which is bad enough, but by pushing this to the front page of our primary website, UNH is officially engaging in one-sided political advocacy on this contentious issue. I've remarked on this behavior before; but I didn't really expect anything to change, and it hasn't. There's probably nothing here to endanger the University's non-profit 501(c)(3) status, since there's no explicit endorsement of specific political candidates. I still think it stinks, though.
By the way, Accuweather is currently predicting "High: 45 °F RealFeel®: 33°F" for Durham, NH on Saturday. ("Some sun, then turning cloudy and chilly.") Fortunately, the participants in the global warming awareness exercise will have had a couple days to recover from the 1"-3" of snow predicted for Thursday on the Thompson Hall lawn.