Some Pun Salad readers may avoid the more lurid mainstream news outlets (i.e., most of them) and not have heard about the pet chimp in Stamford, Connecticut who (after years of sweet behavior) attacked a woman, and was eventually shot by the cops. If you want, there's a news story about it here.
So anyway: the NY Post carried the following cartoon today (click for a bigger version if you'd like):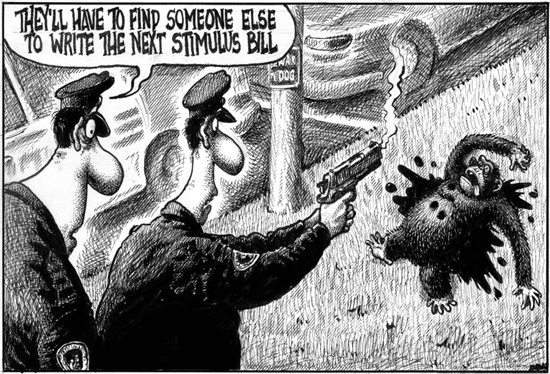 This came to my attention via the Huffington Post. And… guess what their take is?
A cartoon likening the author of the stimulus bill, perhaps President Barack Obama, with a rabid chimpanzee graced the pages of the New York Post on Wednesday.
Excuse me,…what?
The drawing, from famed cartoonist Sean Delonas, is rife with violent imagery and racial undertones. […]
Racial undertones? Really?
Well, of course, if that's the way your mind works.
And Al Sharpton also weighs in:
The cartoon in today's New York Post is troubling at best given the historic racist attacks of African-Americans as being synonymous with monkeys.[…]
Oh. My. God.
Now, to be fair, the HuffPo writer does manage to drop a hint that he's not totally oblivious to reality:
At its most benign, the cartoon suggests that the stimulus bill was so bad, monkeys may as well have written it.
Geez, ya think!?
Except that for "At its most benign", I would have substituted: "It is obvious to less race-obsessed people that"
To its credit, the Po also links to a Post statement about this phony controversy:
The cartoon is a clear parody of a current news event, to wit the shooting of a violent chimpanzee in Connecticut. It broadly mocks Washington's efforts to revive the economy. Again, Al Sharpton reveals himself as nothing more than a publicity opportunist.
In other news, water still wet.
I read this after reading a different story. Attorney General Eric Holder's speech to Justice Department staff was widely quoted:
Though this nation has proudly thought of itself as an ethnic melting pot, in things racial we have always been and continue to be, in too many ways, essentially a nation of cowards.
Well, that's attention-getting. None of that "land of the free, home of the brave" BS for AG Holder!
What does he mean?
Though race related issues continue to occupy a significant portion of our political discussion, and though there remain many unresolved racial issues in this nation, we, average Americans, simply do not talk enough with each other about race.
Oh, that.
When did we last get lectured that we "don't talk enough" about racial issues? Oh yeah, last March, when candidate Obama gave his "race speech" in Philadelphia, bemoaning "the complexities of race in this country that we've never really worked through". I wrote a long-winded post at the time, which (I think) still holds up pretty well. But if you want the five-cent summary, it's this quote from Jonah Goldberg:
In fact, doesn't it seem like the majority of people begging for a "new conversation" on race are the same folks who shout "racist!" at anyone who disagrees with them?
True then, and as Sharpton and the HuffPo writer demonstrate, still true today.