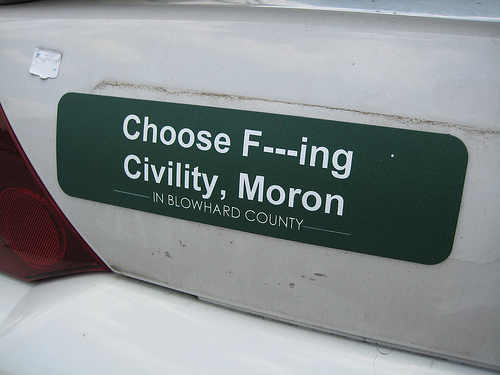 Sometimes my web-reading habits work out. No sooner did I read David French:
How wonderful it must be to feel the self-righteousness glow that one gets by calling for civility while -- at the same time -- implicitly accusing your fellow citizens of inciting murder. Leave it to the Left to create an entirely new form of political discourse: vicious civility.
… when almost immediately I read an example of the that very thing, from Washington Post editorial columnist Eugene Robinson:
In the spirit of civil discourse, I'd like to humbly suggest that Sarah Palin please consider being quiet for a while. Perhaps a great while.
It's very reminiscent of President Obama's urging Americans to "more civility in our public discourse", which came barely a month after he referred to Republicans as "hostage takers" and deemed John Boehner a "bomb thrower."
Maybe instead of quoting Psalm 46:4-5, the President might have spent a few minutes meditating on Matthew 7:5.
My own inclinations are similar to those of Don Surber:
Bite me.
(But read the whole thing.)