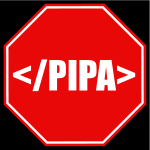 Our fine state's finer Senator, Kelly Ayotte, has responded to my mail requesting that she drop her support of the Senate's PIPA legislation. (Akin to the House's SOPA bill.) Her response:
Dear Mr. Sand:
Interesting contrast with Senator Shaheen, who opened with "Dear Paul".
Thank you for contacting me regarding the Preventing Real Online Threats to Economic Creativity and Theft of Intellectual Property Act (PROTECT IP; S. 968) and the Stop Online Piracy Act (SOPA; H.R. 3261). I appreciate hearing from you.

As you know, PROTECT IP and SOPA provoked a groundswell of grassroots activism across the Internet. This demonstrates how important the Internet is in our time, its growing prominence in influencing the political dialogue, and how citizens can make their voices heard. The input that I received from thousands of New Hampshire citizens highlighted the need to address concerns regarding Congress' legislative efforts to combat online piracy and copyright infringement.

PROTECT IP was originally scheduled to be considered in the Senate on January 24, 2012. Because of the outpouring of concern about the legislation as it continued to be developed, I could no longer support the legislation in its current form and withdrew my cosponsorship.

As many New Hampshire citizens have made clear, we cannot allow America's brightest ideas, products, art, and media to be stolen and sold by foreign criminal enterprises. PROTECT IP was supposed to be about stopping this foreign piracy. However, the legitimate concerns about government overreach warrant further consideration and careful deliberation, and I was pleased to see the bill pulled from the floor.

We must find a lawful and reasonable way to protect intellectual property rights. For example, shutting down a dealer selling stolen cars is not censorship or "breaking capitalism," it is protecting private property and preserving societal values and standards. We should seek to afford American copyright holders adequate protections against foreign thieves. Foreign rogue websites, online piracy, and counterfeiting threaten U.S. businesses, consumers, and many thousands of American jobs. We must be able to safeguard intellectual property without undermining Internet freedom.

Again, thank you for taking the time to contact me. As your Senator, it is important that I hear from the people I represent regarding the issues facing our country. Please do not hesitate to be in touch again if I may be of further assistance.
I much prefer Senator Ayotte's response to Jeanne's. But her analogy with stolen cars in paragraph five seems faulty.