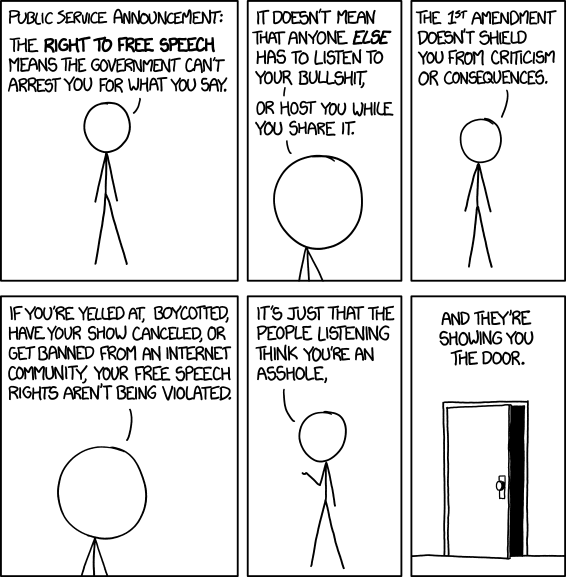 I've been a fan for years of Randall Munroe and his xkcd web comic. (I count 14 Pun Salad references to xkcd over the years, the first one nearly five years back.) I even ordered his new book
the day he announced it.
Munroe's xkcd is nearly always smart and clever, making the most of the comic medium and his modest artistic skills. In fact, up until today, I would have omitted "nearly always" from the previous sentence. Because the current comic (miniaturized at right, click for the original) is obtuse, sloppy, and tendentious.
The topic is "free speech", and it's obviously meant to respond to various criticisms aimed at (for example) Mozilla for dumping its brief-CEO Brendan Eich, and Brandeis U for granting, and then rescinding, an honorary degree from Ayaan Hirsi Ali.
Munroe begins:
PUBLIC SERVICE ANNOUNCEMENT:
Yeah, maybe I should have added "insufferably smug" to my description of the strip above. Be grateful, ye public! For what Munroe is about to announce is a precious service granted unto you!
THE RIGHT TO FREE SPEECH
MEANS THE GOVERNMENT CAN'T
ARREST YOU FOR WHAT YOU SAY.
The sloppiness begins: actually, it's the First Amendment that proscribes the government from arresting speakers. The "right to free speech" is a pre-existing liberty protected by the First Amendment.
That might be dismissed as a quibble, but I wouldn't agree. The First Amendment's speech protection isn't just an arbitrary legal rule picked out of the air by its authors. Not to get all sappy, but the Amendment's underlying foundation is the assumed positive value of unhindered debate and unfettered access to the marketplace of ideas. Munroe's sloppy "announcement" manages to obscure that point.
Even as a legalistic point, Munroe is incorrect. For example (as FIRE will be happy to point out) the First also prevents public universities from disciplining students, or discriminating between student organizations, simply because of their expressed viewpoints. (Something the University Near Here needed to have pointed out back in 2004.)
IT DOESN'T MEAN
THAT ANYONE ELSE
HAS TO LISTEN TO
YOUR BULLSHIT,
OR HOST YOU WHILE
YOU SHARE IT.
Uh, sure. As near as I can tell Munroe has defeated a strawman here: precisely nobody is advocating that people be forced by government action to "listen". And I haven't (for example) seen anyone claim that either Brendan Eich or Ayaan Hirsi Ali have any legal remedies against their shoddy treatment.
But the "host" part is another matter, and, strictly speaking, Munroe's just wrong. For example (as implied above): if you're a public university, you can't set up one set of rules for the College Democrats, and a different set for College Republicans, simply because you've pre-judged one of them as engaging in "bullshit".
The 1st AMENDMENT
DOESN'T SHIELD
YOU FROM CRITICISM
OR CONSEQUENCES.
Of course it doesn't shield you from criticism; another strawman.
But (equally of course) it does shield you from at least some consequences. Doesn't Munroe remember what he said in panel one?
Expanding on that half-wrong point, Munroe wanders off into the weeds:
IF YOU'RE YELLED AT, BOYCOTTED,
HAVE YOUR SHOW CANCELLED, OR
GET BANNED FROM AN INTERNET
COMMUNITY, YOUR FREE SPEECH
RIGHTS AREN'T BEING VIOLATED.
As a legal matter, that may (or may not) be true. I wouldn't expect, for example, Munroe to delve into issues like the Heckler's Veto in the limited space of a comic strip. But he's displaying (probably feigned) ignorance of such issues. As I said: obtuse.
Going beyond the strictly legal issues, Munroe is declaring himself a proud member of "The Culture of Shut Up". That's sad.
IT'S JUST THAT THE
PEOPLE LISTENING
THINK YOU'RE AN
ASSHOLE.
In panel 2, Munroe (correctly) claimed that people didn't have to listen. Here they are listening. Gosh, it's hard to follow this argument.
AND THEY'RE
SHOWING YOU
THE DOOR.
I'm not old enough to remember the Hollywood blacklist, but I remember it was supposed to be some sort of horrible thing. Munroe, I guess, would have had no problem with it.